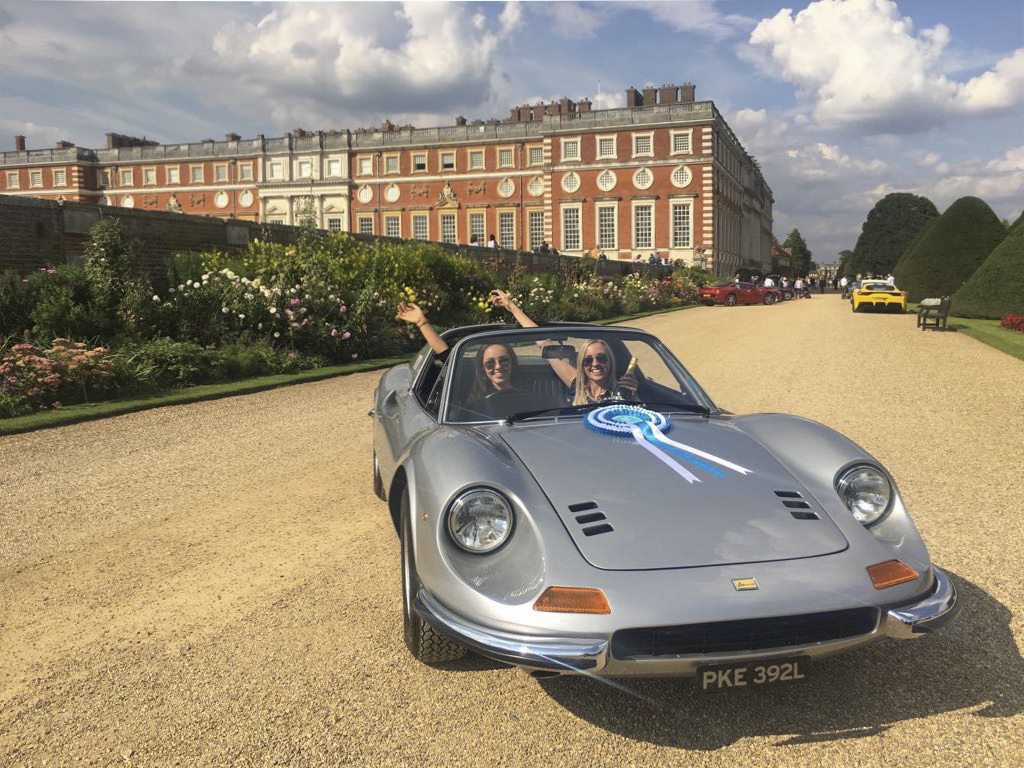 This weekend, Her Majesty's Hampton Court Palace opened it's gates and the Royal Gardens played host to a jaw dropping assembly of automotive gems for this year's annual Concours of Elegance. Winners of club concours events from all over the UK were invited to attend in order to compete for the Concours of Elegance Club Trophy.
Having both been awarded prizes at the Ferrari Owners Club EFG Concours in July, Foskers were asked to attend the glittering event, along with our fully restored Ferrari 250 PF Coupe and Ferrari 246 Dino GTS.
With an early arrival at Hampton Court Palace, Jeff Fosker took the wheel of the 250 PF, followed by his daughter Holly Fosker, driving the 246 Dino GTS in preparation for the entry procession of classic cars into the grounds.
With not a cloud in the sky over the Royal Gardens, the Dino roof was removed, and the Argento Auteuil beauty turned the heads of those it was paraded past. Taking their positions in the display of Club Trophy participants, the 250 PF glittered in it's spot in the sunshine beside the swan filled lake.
Both Foskers prepared restorations attracted immense attention from judges and visitors alike, as they wandered amongst the fine selection of cars on display. The competition was strong, and therefore we were thrilled for the Dino to make the judge's shortlist.
The Dino was paraded in front of the guests and media once more, before taking it's place at the Talking Concours Stage. Cousin of the Queen, and noted motoring-aficionado, Prince Michael of Kent presented the Highly Commended award to Holly. A fan of the Dino himself, owning one in the past, he commented on the beauty of our example.
Leaving Hampton Court with smiles all around, and yet another award for one of our acclaimed restorations, we looked forward to Salon Privé the next morning.
We are currently considering restoration projects for 2018/19. If you are contemplating a renovation to the highest standards please contact Jeff or Alastair.